Cloud Softphone troubleshooting Android
The most common Cloud Softphone issues – Android
This guide will provide you with the instructions to fix the most common issues related to the cloud softphone.
1. Bad quality of the calls
The quality of a call is determined by the internet connection. If you have a bad quality with some or all calls, please try to test with a different connection. If you are connected to a wifi network, try to enforce 4G on your phone. If you are connected to a 4G network, enable your wifi and connect to the wifi network.
Enforce 4G
Since the Wifi coverage isn't always that good (especially at home), you can enforce the Cloud Softphone to use a 4G connection even when connected to a wifi network.
Cloud Softphone – Settings – Preferences – Network – Keep cellular network active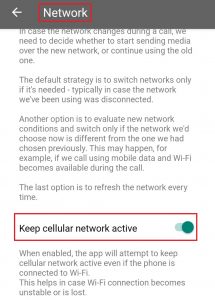 2. No incoming calls (always or sometimes)
Check your internet connection and try to switch from wifi to 4G or vice versa.
Check if DND is disabled. We highly recommend using Ring Devices instead.
Open Cloud Softphone – click on the logo, left upper corner – switch off immediate DND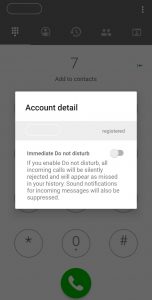 Make sure that the application keeps running in the background of the phone. For each brand, you can find a guide how to activate this on the following link.
Don't kill my app
If nothing off the above things seems to work, please enable SIP logs, extract them and send them to us. Don't forget to mention the date and time when the problem occurred.
Enable logging
Go to the cloud softphone application and open the settings (3 dots in the right upper corner)
Go to the Program settings, and open preferences
Scroll down to other and enable Troubleshooting logs
From now, logs of your calls will be collected
Extract and share logs
Make sure you already enabled logging before searching for logs of your calls.